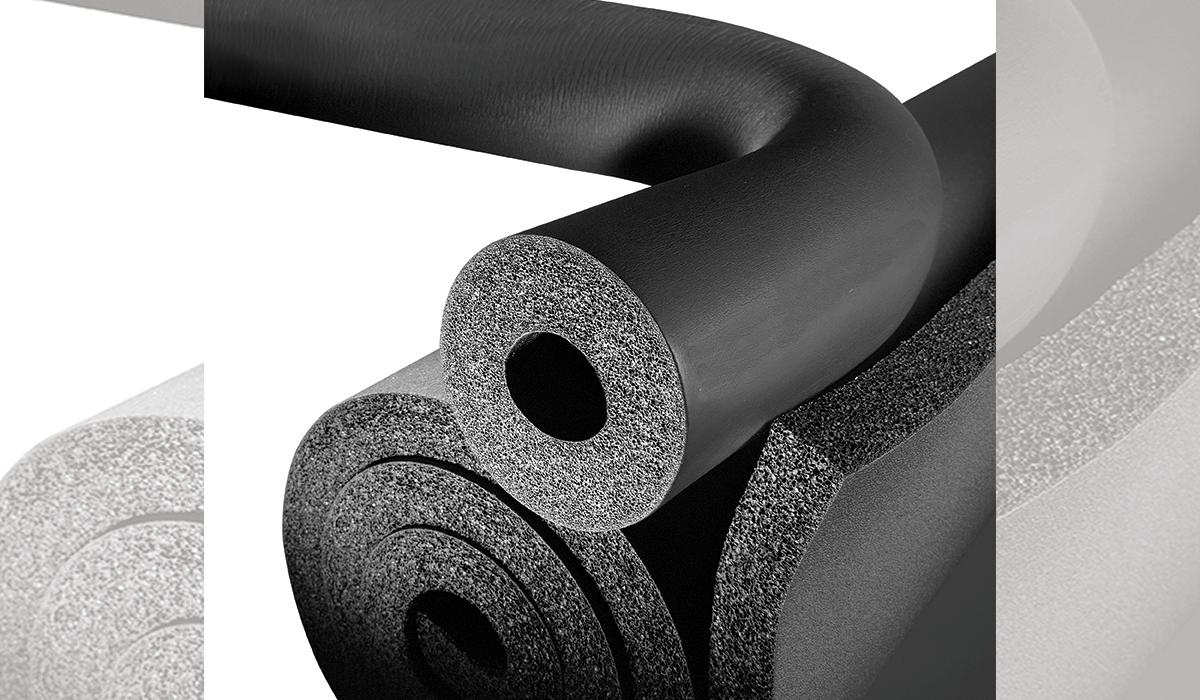 Fiberglass, Foamglas, perlite, phenolic foam ... and elastomeric insulation? Elastomeric foam insulation was developed in the 1950s as a synthetic alternative to natural insulation materials such as cork. The polymer-based insulating material has become popular over the years to protect the inner workings of buildings. Let's dig into elastomeric insulation and its many uses across industries.
What Is Elastomeric Insulation?
Often referred to as rubber insulation, elastomeric insulation is closed-cell foam insulation that provides moisture resistance and long-term thermal performance. It is made from three components:
Synthetic rubber blend (e.g., nitrile butadiene rubber or ethylene-propylene-diene monomer)
Chemical foaming agent


What is unique about elastomeric insulation is that it has strong water vapor permeability, so you do not need a vapor barrier to prevent moisture transfer.


How Does Elastomeric Insulation Work?
Rubber insulation functions primarily as a thermal insulator. It manages heat gain and loss, as well as condensation control for mechanical systems without losing thermal efficiency.
This insulation is easy to implement because it does not require an outer protective jacket except in three unique situations:
During UV ray exposure
In cases where there is mechanical damage
In environments with extreme vapor drive


As a bonus, elastomeric insulation offers a non-fibrous alternative to internally lining ductwork, making it easier to meet project requirements.


What Are the Applications for Elastomeric Insulation?
Rubber insulation is available in a wide range of shapes and thicknesses — from sheets to rolls to tubes — making it ideal for various uses. For example, elastomeric insulation is commonly used in industrial and mechanical applications, including:
Refrigeration and chilled water piping
HVAC components
Interior and exterior duct systems
Chillers
Mechanical systems
Solar installations


Because it's such a versatile and durable insulation type, elastomeric insulation works to safeguard your systems to operate safely and efficiently.


3 Benefits of Elastomeric Insulation
There is little worse than insulation that requires lots of in-field cutting and a complicated installation process. Luckily, rubber insulation is well known for how user-friendly it is because it bonds to various surfaces and is easy to install.
Elastomeric insulation stands the test of time, too. Its performance is not easily compromised because it's less susceptible to:
Cracks
Breakage
Material loss


Rubber outperforms some of the most common rigid insulation, from cellular glass to polyiso to phenolic foam, and it boasts three major benefits: moisture resistance, air quality control and noise control.


1. Provides Moisture Resistance
Because of its closed-cell structure — wherein millions of tiny barriers resist liquid migration — elastomeric insulation is highly moisture-resistant. As a result, your systems are protected on two fronts: It minimizes mold risk because of its non-particulating, smooth surface, and it further protects piping and equipment from corrosion under insulation (CUI).


2. Preserves Indoor Air Quality
Going green is a big deal — and so is protecting your workers in an environment where they spend at least eight hours a day. Elastomeric foam safeguards indoor air quality because it:
With this tag team, your operation releases far fewer chemical emissions, making the environment cleaner and safer.


3. Attenuates HVAC Noise
Far from simply acting as a thermal insulator, rubber insulation packs an extra punch as acoustic insulation for HVAC ducts—despite this being a highly specific application. If your owner project requirements (OPRs) require a certain degree of acoustic performance, closed-cell elastomeric insulation attenuates or reduces airborne and structure-borne sound from HVAC ductwork. Within your HVAC systems, elastomeric insulation effectively keeps fan noise and sheet metal vibration between 250-500 Hz.


Invest in Elastomeric Insulation for Your Project
Elastomeric insulation is an effective go-to thermal insulator for industrial and mechanical applications, from piping to HVAC purposes. Need a solution that provides moisture resistance, preserves air quality and reduces noise? Rubber insulation could be ideal for your operation!
Explore our selection of elastomeric insulation online and get more insights from the Distribution International blog.