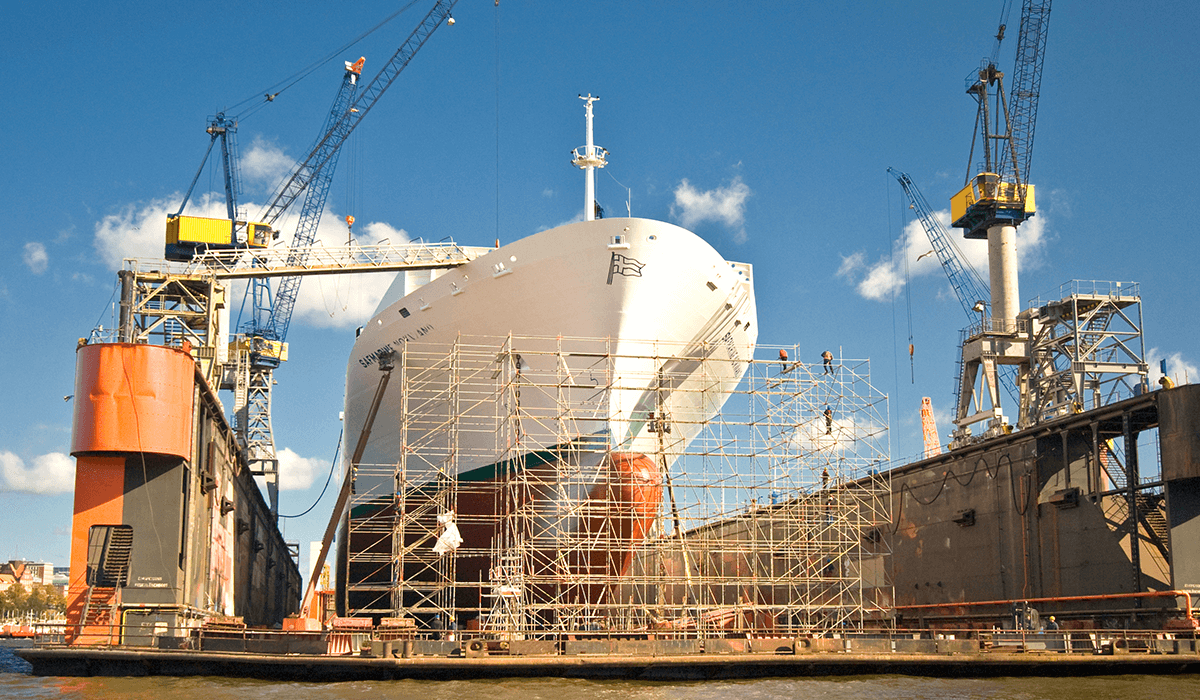 Homes, office buildings, warehouses and all other land structures require adequate insulation to protect people and things from a number of hazards. Offshore vessels should not be any different, which is why another class of insulation exists: marine insulation. It protects structures that float — something traditional insulation cannot do. Here, we will explore what marine insulation is, how it works and the several layers of protection that keep marine structures and occupants safe.


What Is Marine Insulation?
Simply put, marine insulation is insulation rated for use in marine applications. It is commonly found in the walls (bulkheads) and ceilings (decks) of ships and oceangoing vessels. Marine insulation serves many purposes to protect vessels, such as:
Reducing thermal heat, vibration and noise transfer
Preventing the spread of flames throughout the structure


Traditionally, marine insulation used cork-based products and mineral wool. Today, this insulation is also made from fiberglass, polyimide and more. However, there is a caveat: All marine insulation must meet the rules and regulations set by the International Maritime Organization regarding thermal, fire and noise protection, or meet performance requirements as set forth by military specifications for naval vessels.


How Is Marine Insulation Different from Other Types of Insulation?
Consider: Industrial plants, refineries and power generation facilities insulate pipe racks, furnaces and boilers to maintain appropriate temperature, ensuring operational efficiency. Generators are insulated with materials to provide personnel protection and mitigate sound transmission. In commercial buildings, ducts are insulated to ensure efficiency of the HVAC system and chill water lines to provide condensation control. Additionally, curtain wall and sound attenuating fire insulation materials are utilized to increase structural integrity and prevent the further spread of fire. Each of these applications exists within a marine vessel; they just happen to exist within an offshore environment, with passengers onboard, making fire performance a critical factor in the insulation materials used within these structures.
Its characteristics are similar to commercial and industrial insulation solutions, but marine insulation is further tested and certified through regulatory bodies, ensuring adherence to stringent fire standards.


Benefits and Use Cases for Marine Insulation
Marine insulation works harder than perhaps any other insulation solution. Anything can happen on the open water, so marine insulation has to perform well in any scenario, providing thermal, fireproofing, pipe and air duct insulation and acoustic protection. Let's look at each of these types of protection.


Thermal
Marine insulation is effective partly because of its thermal resistance. At a minimum, it keeps heat from radiating throughout a vessel, which influences comfort. In naval vessels especially, personnel quarters are usually small, so they are insulated to be more habitable.
Use case: refrigeration
Of course, being able to regulate temperature has wide applications. That is why container shipping vessels with chilled products use thermal insulation to maintain cold temperatures.


Fireproofing
Marine insulation incorporates incombustible materials, enhancing fire resistance. Stone wool and fiberglass insulators are common and come in two configurations:
Plain insulation, where the insulation will lie beneath a joiner system
Insulation with facing, where the material is visible, such as in an engine room


Use case: structural fire protection
No vessel can do its job if it goes up in flames. The fireproofing capabilities of marine insulation reduce the risk of fire spreading from one end of the vessel to the other on drilling rigs, merchant ships and naval vessels.


Pipe and Air Duct Insulation
On a ship or vessel, you must regulate the flow of air or water. Marine insulation protects pipes and air ducts that carry temperature-sensitive air masses such as conditioned air with a layer of aluminum foil fiberglass cloth for thermal and condensation insulation. In other cases, pipes that carry hot fluids can withstand higher temperatures, so insulation is made of mineral wool.


Acoustic
Noise and vibrations can be disruptive on ships and vessels. As vibrations spread, they cause both issues with habitability and structural problems. Guided by ISO standard 20283-5, marine insulation mitigates the problem by limiting noise and vibration to acceptable levels (1 Hz to 80 Hz).
Use case: Engine rooms
A ship's engine is a workhorse. You need to insulate against the noise produced by the engine and its components. Otherwise, expect a very noisy, bumpy ride!


Marine Insulation by Distribution International
Distribution International is proud to offer a selection of marine insulation products for a wide variety of applications. Ensure thermal and acoustical control for the hull and deckheads, safeguard acoustical treatments, HVAC equipment, pipe wrap kits or appliances and protect persons on board with custom fabricated marine insulation. Our marine solutions include:


Insulation Thickness: 1 inch
Material: Fiberglass
Length: 36 inches
Width: 12 inches


Insulation Thickness: 2 inches
Material: Polyimide
Length: 36 inches
Width: 24 inches


Insulation Thickness: 1-1/2 inches
Material: Ceramic Fiber
Length: 25 feet
Width: 24 inches


Insulation Thickness: 3 inches
Material: Mineral Wool
Length: 48 inches
Width: 24 inches


Insulation Thickness: 2 inches
Material: Fiberglass
Length: 900 inches
Width: 48 inches
Do you need help choosing the best product for your application? Get in touch with one of our experts, and we'll figure it out together.


Choose Distribution International for Your Marine Insulation Products
Although marine insulation is not what most people think of when it comes to structural protection, it is absolutelyessential. Luckily, marine-grade insulation protects vessels in just about every way imaginable: thermal protection, fire resistance, acoustic and vibration control, and even pipe and air duct protection. Does your operation need marine insulation? Get in touch with Distribution International and determine your best path!