Pipe insulation is not the same across the board, with many choices available. It only performs its best when applied correctly, which includes using the right material for the right project.
Will it be fiberglass or mineral wool? Polyurethane or phenolic insulation? Learn about the different types of thermal pipe insulation and how to pick the right one for your needs.


Types of Thermal Pipe Insulation
Pipe insulation reduces heat transfer of thermal energy to and from the surface of the piping system, providing heat conservation. However, there are several types, and the one you need depends on your application. Consider these options as you approach your option.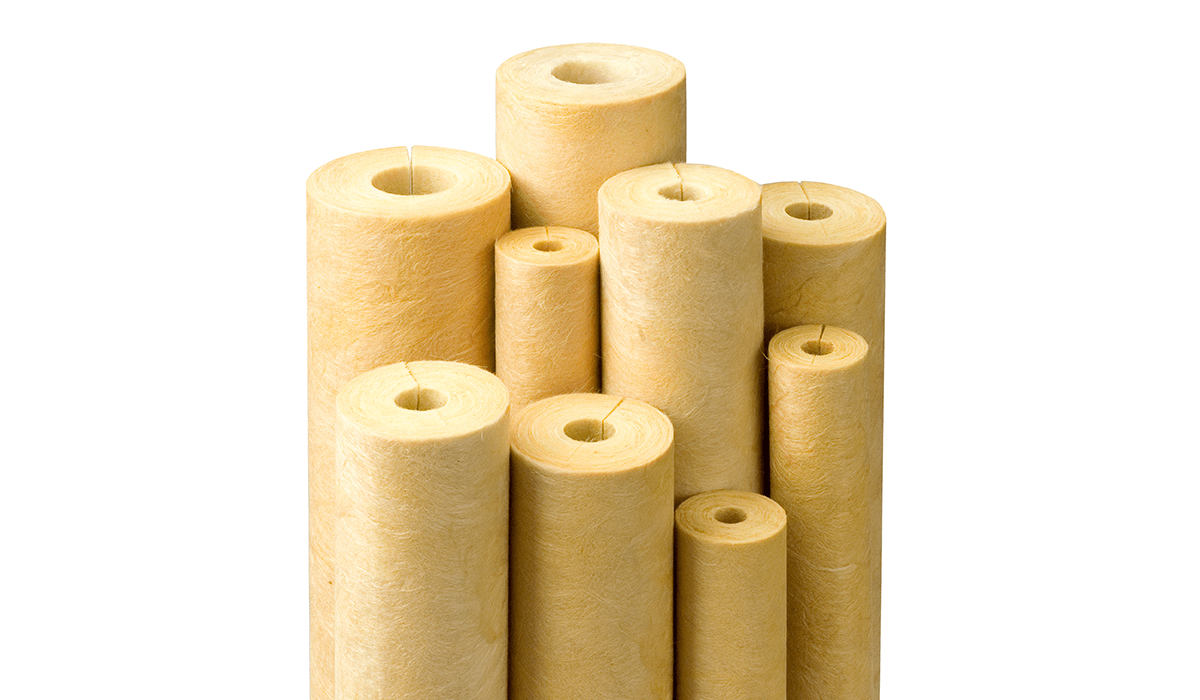 Fiberglass
Fiberglass is always one form of insulating material that comes to mind for even the simplest of projects. It's made of fine glass fibers, which provide thermal insulation and are a lightweight and cost-effective option. Fiberglass is available in the form of blankets, board, duct liners or elbows, depending on your needs.


Benefits of fiberglass
Fiberglass insulation has several additional benefits. When you choose fiberglass pipe insulation for your project, you get a solution that:
Retains temperature, boosting your energy efficiency
Doubles as acoustic insulation


Polyurethane
Polyurethane is as cold as ice—or at least, it's most effective in cold environments. It's a form of cold foam insulation used on cold surfaces of piping to avoid heat gain or condensation. Polyurethane withstands temperatures ranging from -150 C to 110 C, and it's most often available in preformed cylindrical shapes to conform to piping.


Benefits of polyurethane
Polyurethane insulation also has sound dampening properties. It doubles as acoustic insulation to reduce noise and vibration from pipes.


Phenolic
What do you get when you mix solids and liquids? Phenolic pipe insulation.
It's a rigid foam-based cellular pipe insulation material made by mixing solids with phenolic resin and a surface reacting agent. Phenolic insulation is the most energy-efficient insulation available for any given thickness, and it's available in buns or foil-faced sections to conform to pipes. This thermal pipe insulation withstands cooler temperatures, ranging from -50 C all the way up to 120 C.


Benefits of phenolic insulation
Phenolic insulation packs a protective punch. When you choose phenolic pipe insulation for your project, you get a solution that:
Is moisture resistant
Has low thermal conductivity and flammability

Mineral Wool
It's getting hot in here, so use some mineral wool. Mineral wool is a form of hot insulation made of inorganic fibers and enhanced with glass fibers. Mineral or rockwool is available in batts or sections with a factory-applied foil covering. Apply this thermal pipe insulation to hot surfaces of a piping system to conserve heat, as it's crafted to withstand up to 700 C!


Benefits of mineral wool insulation
Mineral wool insulation does a ton to guard against the effects of the environment. Mineral wool pipe insulation is a solution that:
Prevents rot, corrosion and mildew
Resists smoke and fire spread

Cellular Glass (Foamglas)
If you need a durable thermal pipe insulation, cellular glass could fit the bill. It's made from closed-cell glass, which makes it impermeable to water, and it can be fabricated into all shapes and sizes. Cellular glass is also non-combustible and moisture resistant, with high compressive strength and fireproofing qualities. It withstands a wide range of temperatures, from -268 C to 482 C, making it ideal for cold and hot applications.


Benefits of cellular glass
Cellular glass insulation isn't just extremely flexible for your needs, but for the environment, too. It's environmentally sustainable for use in commercial and industrial applications.


Aerogel
Talk about flexibility: Aerogel is a synthetic, lightweight material with low density that works wonders as a thermal insulator. It's used in both cold (Cryogel) and hot (Pyrogel) applications and is available as blankets, pipe coverings and elbows. Aerogel withstands temperatures ranging from -268 C up to 650 C, making it effective in industrial, commercial and subsea spaces.


Benefits of aerogel insulation
Aerogel insulation helps you work smarter, not harder. The material helps you reduce labor costs because it cuts easily, limiting or eliminating in-field fabrication time and cost and speeding up installation.


Calcium Silicate (CalSil)
You don't want to worry more about fire than you have to. CalSil takes care of this as a high-temperature, high-strength thermal insulation that uses its crystalline structure to provide insulation. It offers high-temperature structural integrity, high compressive strength and corrosion inhibition, and it's used to insulate high-temperature pipes and equipment while providing fire endurance. CalSil withstands temperatures ranging from 121 C to 650 C (pipe and block), or 927 C (fire endurance boards).


Benefits of CalSil
CalSil insulation doesn't just resist high temperatures. When you choose CalSil pipe insulation for your project, you're doing more to:
Protect the environment with an asbestos-free and landfill disposable material
Reduce labor costs by cutting in-field fabrication


Perlite
If foam insulation fits your needs, perlite could be an effective choice. It's an inorganic material that has a foam-like internal structure, so it has a low density and is an efficient insulator. Perlite is non-combustible and resistant to corrosion under insulation, both of which help this thermal pipe insulation protect pipes, fittings, refractory bricks, boilers and industrial furnaces. Perlite is effective in cryogenic and high-temperature applications, and it can withstand temperatures ranging from -268 C to 980 C.


Benefits of perlite insulation
Perlite insulation provides 360-degree protection. That means it is a thermal pipe insulation that:
Acts as a sound dampener
Resists water absorption
Poses no known health risks

How to Pick the Right Thermal Pipe Insulation
Aside from materials, applications and a few core benefits, several other must-haves dictate which kind of thermal pipe insulation you need. Take these into account when you prepare for your project.


Measurement
How big are the pipes you need to insulate? Take the right measurements to ensure compatibility between your pipes and the materials you wish to use.
Be sure to account for the following:
Consider the pipe bore: Pipe bore is the outside diameter (OD) of the pipe, which is usually higher than internal bore size.
Don't slack on insulation thickness: Thicker insulation reduces heat loss from pipes and provides greater protection from freezing temperatures. If your project is an outdoor application, insulation thickness should be at least 19 mm.

Temperature
What is the environment like where you will be installing the insulation? What can certain insulations withstand? To be effective, both the environment and insulation should be compatible.
Need a cheat sheet? Here you go:
The best low-temperature insulation: Cellular plastic or foam rubber
The best moderate-temperature insulation: Glass fiber
The best high-temperature insulation: Preformed cement, refractory materials or ceramic fiber blankets

Interior vs. exterior
Mother Nature packs a wallop on piping systems—and by extension, thermal pipe insulation. So make sure you use the right materials, depending on whether you have an interior or exterior application.
Below are a few more tips:
Phenolic and mineral wool insulation: Primarily interior, but can be used outdoors when used with Polyisobutylene (PIB) sheeting
Polyurethane and fiberglass: Indoor only
Aerogel: Indoor or outdoor
Calcium Silicate: Indoor/Outdoor
Don't just pick any old insulation for your project. Look at the decision from multiple angles so the solution truly meets your needs!


Trust an Expert to Pick the Right Insulation
When it comes to thermal pipe insulation, the choices can be overwhelming. But remember why and where you need it, and choose accordingly—taking added benefits into account.
Does the decision still seem daunting? Get expert insights from the pros at Distribution International. Contact us to get on the right track and secure the best insulation for your project.