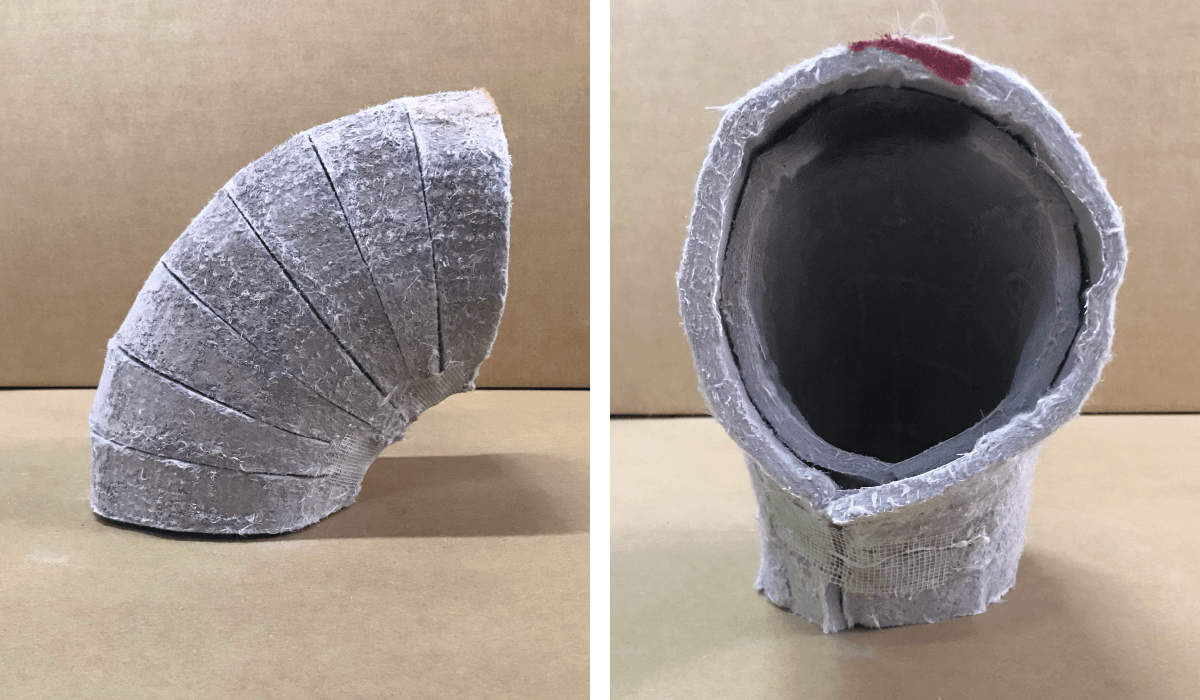 Whether you're insulating components in frigid environments or in high-heat conditions, the right insulating material is essential. Aerogel insulation provides an effective thermal barrier for both sides of the temperature spectrum to suit your needs.
But one size doesn't fit all, so we're exploring the various types and applications of aerogel — from cold to hot applications. We'll also introduce you to Distribution International's new DI Fit™ Aerogel Fittings and highlight the advantages they may bring to your project.
What Are Aerogel Fittings?
Aerogel insulation is a synthetic, lightweight material with low density. It is most commonly used for blankets, pipe coverings and elbows in industrial and building insulation because it is such an effective thermal insulator.
Because it is so flexible, aerogel insulation is effective in both cold and hot service applications. At Distribution International, you will find the perfect product to fit your needs:


Cryogenic Aerogel
If you need insulation for cold applications, cryogenic aerogel insulation is designed to be effective in sub-ambient, cold applications. It is designed for maximum thermal protection with minimal weight and thickness. It is three times thinner than mineral wool, calcium silicate or perlite, making it effective in confined spaces.
Cryogenic aerogel is ideal for industrial and oil and gas processing industries because it remains pliable in sub-zero temperatures. Because it stays so flexible, cryogenic aerogel insulation is easy to contend with, and maintenance personnel can readily remove it and address issues as needed.
For cold applications, Distribution International carries Cyrogel and ArmaGel DT (which is designed for cryogenic and dual-temperature applications).


High Temp Aerogel
For applications that require heat resistance, high temp aerogel does the job. This flexible aerogel insulation blanket has a heavy-duty thermal performance to insulate in temperatures up to 1,202°F, outperforming wool or fiberglass. High temp aerogel is also breathable and hydrophobic, so it repels water and moisture — preventing corrosion and damage to the insulation and its underlying components.
For hot applications, Distribution International carries Pyrogel and ArmaGel HT.


Why Use DI Fit™ Aerogel Fittings Over Standard Fabricated Fittings?
DI Fit™ Aerogel Fittings are pre-formed based on your unique needs, making them easier to use. They also have tremendous thermal efficiency, making DI Fit™ Aerogel Fittings ideal for your application.
But wait — as the saying goes — there's more! DI Fit™ Aerogel Fittings overcome the many challenges that come with standard aerogel fabrication.


Safer Installation and Reduced Labor
With less in-field fabrication and cutting required, installation is much easier with DI Fit™ Aerogel Fittings. The single-piece construction is pre-formed to match the elbow, so you and your team can avoid the added labor costs and associated risks of fabricating insulation fittings in the field. While craftsmanship is certainly still the cornerstone of the trade, pre-cut and formed fittings create labor savings and a safer job site.


No Through-Joints
Using a fabrication technique that excludes through-joints, DI Fit™ Aerogel Fittings outperform aerogel insulation with several parts. In a double-layer application, using zero through-joints is energy-efficient, decreasing temperature change and improving overall performance.


High Durability in Transport
Standard aerogel insulation fabrication creates a product that is delicate and can be easily smashed or bent in transport. DI Fit™ Aerogel Fittings are durable instead. If the product arrives at your facility with shipping and handling damage, don't worry. DI Fit™ Aerogel Fittings easily return to their original elbow shape.


Consider DI Fit™ Aerogel Fittings for Your Next Project
Need a flexible insulation solution? DI Fit™ Aerogel Fittings may be the right option for you. DI Fit™ Aerogel Fittings offer numerous benefits over traditional aerogel insulation fabrication to meet your unique needs, from improved performance to quicker in-field installation time. Explore the solution more at distributioninternational.com, and log in to CustomerConnect to request a quote.