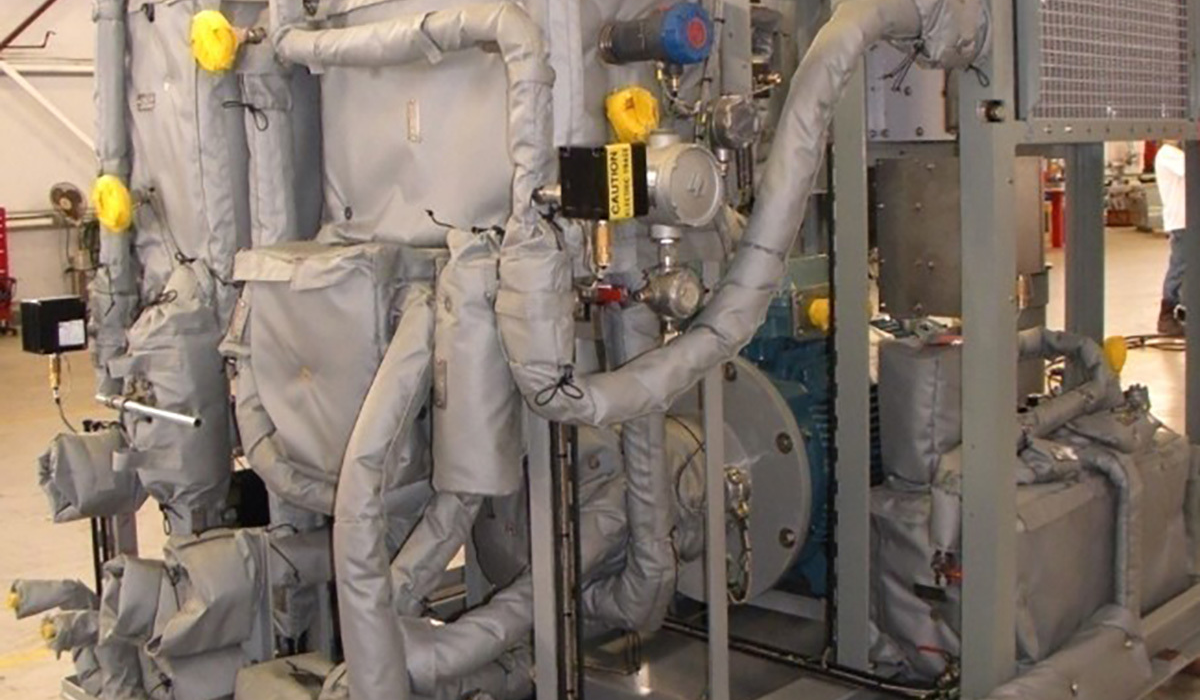 No one likes working in noisy spaces. But for workers in industrial environments, excess noise proves detrimental not only to productivity levels but also to health. For one thing, when surrounded by too much noise, workers are unable to work productively or communicate effectively. Even worse, consistent and aggressive sound can cause permanent hearing loss.
The World Health Organization (WHO) defines noise above 65 decibels (dB) as noise pollution. Above 75 dB, noise can be harmful; above 120 dB, noise can be painful. Unfortunately, high-decibel environments are common in industrial work. For example, petrochemicals require high-temperature and high-pressure equipment. This equipment generates excessive noise that can be hazardous to workers and the environment.
Industrial acoustic insulation is instrumental in the prevention of harmful noise effects. There are two types of noise: airborne (caused by the vibration of air) and solid-borne (caused by the vibration of objects or solids). Insulation teams work together to provide ample sound barriers on walls and ceilings as well as in the form of silencers, which reduce noise from fans, turbines, and pipelines. Below, we discuss three key benefits of insulation in industrial acoustics.
Better Working Conditions
Industrial acoustic insulation, particularly mineral wool and fiberglass, offer relief to workers in industrial spaces who want to experience both the comfort and the privacy that this type of insulation offers.
Sound-absorbing panels inside a factory, manufacturing plant, or industrial facility keep your workers safe. Because open spaces are particularly prone to noise pollution, installers must prioritize sound proofing even more in these areas. Not all machinery can be enclosed in sound-absorbing and sound-proofing jacketing, which is when ceiling insulation solutions come into play. Acoustical panels along the walls minimize echoes and reverberations and can be versatile in their application.
Additionally, removable blankets can be very effective in reducing noise pollution in many industrial environments.
Regulation Compliance
Factories and industrial spaces must also contend with safety regulations. Sound insulation eliminates distraction and conforms to new health, safety, and environmental regulations. Factory workers' ears must be protected from noises above 80-85 dB. Gluing thick acoustic foam to the walls surrounding machinery is one way to alleviate noise. Metal wall panels provide additional protection in the case of extremely loud industrial conditions.
In addition to OSHA regulations, industrial facilities must comply with local zoning laws. Facilities that fail to comply with HSE regulations may need to pay hefty remodel costs to get up to code.
Lower Costs and Maintenance Fees
Outfitting your industrial facility with the proper industrial acoustic insulation will save you money in the long run. Over time, your maintenance and repair costs will decrease, and productivity and morale will increase.
The primary purpose of acoustic insulation is to quiet noisy machinery and industrial spaces, but its secondary function is to provide thermal insulation. Insulation supports temperature regulation, which translates to heating and cooling costs dropping significantly.
Insulation products are versatile and durable, extending the lifetime of each individual insulation jacket and adding value via cost savings. Sound absorption panels, for example, are both moveable and wipeable. Most types of insulation jackets are easy to install and remove for easy maintenance procedures. The entire removal and reinstallation process takes only a few minutes.
Removable insulation blankets are fastened onto valves, exhaust manifolds, and other mechanical items that need repeat access in order to maximize efficiency, regulate temperature, and improve workplace safety by reducing noise.
Distribution International offers a wide variety of acoustic insulation products to meet your soundproofing and sound absorption needs. Stay compliant with OSHA regulations while creating the safest and most productive environment for your workers. Take a look at our removable insulation blankets and MRO accessories. To purchase these or other insulation products and accessories online, register for CustomerConnect.