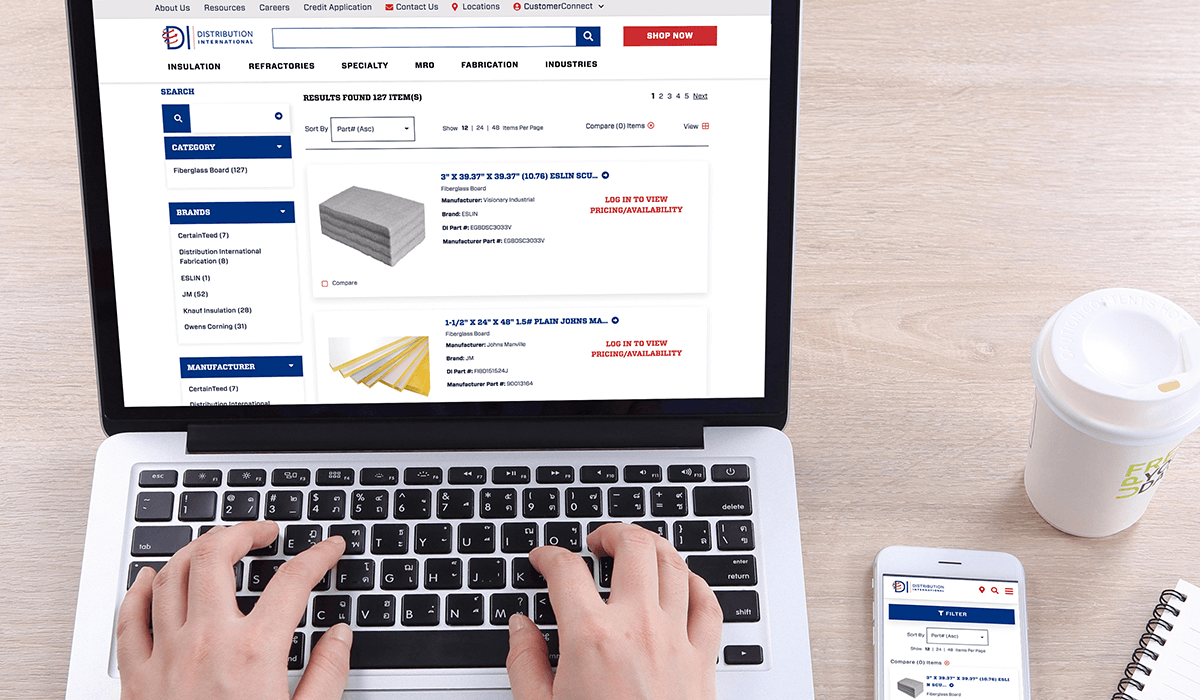 Finding the right insulation solutions for your next project can be a challenge. With so many options to choose from, it may be difficult to get started. Insulation products and MRO (maintenance, repair, and operation) accessories yield results based on many factors, including climate, installation location, and product material. Distribution International's ecommerce platform, CustomerConnect, provides 24/7 access to over 30,000 insulation and accessory items.
Over-the-phone consultations have traditionally been the quick and easy way to place orders and learn more about the availability of select products. Now, you can also conveniently place insulation quotes and orders online, manage those quotes and orders digitally, and compare product features - all in one spot. Distribution International's CustomerConnect portal makes it easy to do business and saves companies valuable time. For companies placing regular, routine orders with the same products, CustomerConnect speeds up the ordering process by allowing customers to save items in their online shopping cart for future purchases. It's quick, easy, and user-friendly.
Benefits of Buying Insulation Online
The process of buying insulation products has never been easier. An excellent customer experience has become even better, with product features located in one place with access to a simple side-by-side product comparison tool.
Extensive Inventory
The type of insulation you purchase for your next commercial or industrial project will depend on factors such as function and R-value. However, all buyers want to know that they have options to choose from to meet their needs. Online insulation purchasing offers the opportunity to review extensive product inventory and use tools such as product comparisons to make the most informed decision about your insulation purchase.
Our inventory includes insulation products such as aerogel, aluminum and stainless steel, calcium silicate, fiberglass, foamglas, mineral wool, perlite, and phenolic. Some of the most popular MRO accessories include electrical accessories, heat tracing systems, and removable insulation blankets.
Customer-Specific Pricing
The ability to view extensive product inventory online also gives customers the option to be more strategic about their purchasing habits. Using CustomerConnect, companies can take advantage of customer-specific pricing for thousands of insulation options and specialty products. This expansive product offering includes insulation accessories such as fire wrap, HVAC, marine, and passive fire protection.
Order Tracking and Management
After you've completed a purchase, you can track and manage your order in real time. Log in to CustomerConnect to view the current status of all your quotes and orders - whether placed online or by phone/email - and enjoy personable customer support should you have any questions throughout the buying process. Find the phone numbers for all of our branches by visiting our Locations page.
One of the major advantages of CustomerConnect is how efficient it makes the insulation procurement process. Many customers need to place duplicate, routine orders, and always having to place a new, separate order wastes time and causes frustration. CustomerConnect allows users to store their orders using the "Saved Cart" feature to cut down on the time it takes to place future orders. Users can also quickly and easily reorder part of an existing or past order with a few simple clicks.
Streamlined Billing and Accounting
People are always looking for simple ways to manage billing. CustomerConnect helps customers manage their accounting while simplifying the billing process. Users can view billing account information anytime they log in.
Customers also have access to the CustomerConnect Invoice Center to view new and past invoices. After reviewing invoices in the Invoice Center, customers who have questions can consult DI's Help Center or send a note to a DI representative to request more information. Customers can also open and request quotes, manage their account, and search for products.
Supplemental Educational Resources
Even the most seasoned insulation installers can benefit from an expert-led tutorial of the latest industry tips and tricks. Distribution International's Resources page guides customers through best practices and installation applications. Customers can also read up on DI's most recent blog posts to learn more about installation dos and don'ts, types of insulation, and insulation installation.
There's also the CustomerConnect video series that provides short, informative videos highlighting the website's features and benefits. These are step-by-step instruction videos demonstrating how to get the most from CustomerConnect - everything from efficiently managing past and current quotes and orders to saving time with the product comparison tools to purchasing online.
Finally, DI presents an ongoing DI 101 webinar series where customers can learn about innovative insulation techniques from the very best in the business. No prior expert knowledge is required. Through multimedia presentations, contractors learn how to make the most of their insulation products.
Not yet registered? Sign up for CustomerConnect today to enjoy all the benefits that buying insulation online has to offer.