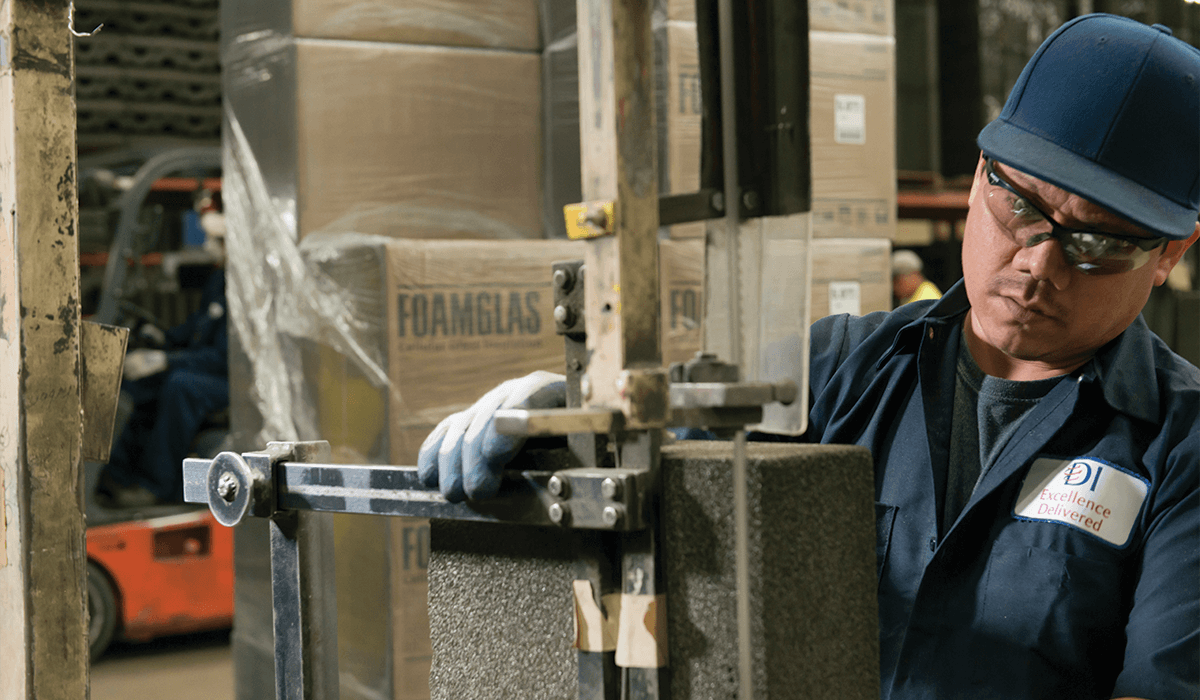 Need thermal jacketing for a commercial or industrial facility? What about pipe wraps? Insulation fabrication centers on customizing—converting and cutting—insulation materials to your precise needs.
At Distribution International, we supply, design, and build custom-fitted insulation products to fit your components, adhering to temperature, flexibility, and resistance requirements. Let's dive into how Distribution International changes the fabrication game and how your facility can benefit.
The Value of Distribution International
At Distribution International, "custom" items are part of the core products we offer. We cut raw materials to your specifications with specialized insulation fabrication tools for varied applications. We have the right tools and equipment to cut and fabricate items needed for your projects. The final products are truly custom solutions.
A few examples of the tools to create custom products:
Pipe cover saw: Rotates insulation around mandrel to determine inner and outer diameter
Fitting saw: Cuts specific angles in insulation, which is especially helpful to fit elbows
Grinding wheel: Cuts the inner and outer diameter for small pipe sizes
Three-axis milling machine: Cuts trapezoidal shapes to fit over tank heads, large fittings and other complex geometries, which reduces installation time by 30-50 percent compared to manual cutting and mitered fittings
Water jet: Cuts insulation with a stream of water, notably for specialty items like ovens and other OEM machines with insulation parts

We know each project is different, so your insulation needs are, too. Parts are customized by project for what customers need—whether that includes elbows and engineered head segments or valves and fittings. Distribution International customizes insulation components from numerous materials to meet your needs:
Benefits of In-House Expertise
You could farm your insulation job out to one or more contractors, but their resources may be limited. Instead of relying on contractors to have this tool or that tool (and let's not forget speciality equipment), turn to an in-house team like Distribution International that has the required equipment, materials, and expertise you need in its extensive network of 20 fabrication shops across the country. Using Distribution International helps to cut labor costs and accelerate on-site installation times, saving you time and money.


Custom Fabrication
At Distribution International, we offer both "often-requested sizes" and custom insulation fabrication options. Our team can design and build custom, ready-to-install insulation, jacketing, and aerogels in-house to fit properly around elbows, valves, flanges, and fittings.
Thanks to our exceptional quality assurance team, you can trust that the product you ordered will be cut to the exact dimensions you need for installation. DI Fit Engineered Elbows and Aerogel Fittings are customizable to your specific needs and are easy to install.
Just-In-Time or Product Layout Organization
Depending on the size of your project, we can cut and ship items for your project to be delivered right when the products are needed so you don't have to store items for months at a time.

Additionally, our packaging process ensures you have access to the first pieces you need right away, and the last pieces you unbox will be the product's finishing touches.


Engineering Support
Distribution International's engineering support is second to none. We have 20 fabrication branches across the U.S. for small to large custom jacketing and insulation fabrication.
Lead time varies based on the size of each job, but we never keep you waiting. Have a maintenance request or small repair? Many projects have a same-day turnaround. Larger requests (e.g., 400 in. vessel head), however, could take up to three months to cut. For more complex custom projects, we use CAD drawings to ensure the dimensions are exact.
From Houston, TX, to Hammond, IN, our support services vary by region to meet your needs.


DI Capabilities by Region
Our insulation fabrication capabilities are applicable across a range of industries—including commercial, government, chemical, energy, industrial, aerospace, and marine—and we're proud to serve a large geographic footprint. Here is a small sample of our locations and the fabrication services they offer.


Houston, TX
Our Houston location is dedicated to solutions to lower installation costs. A few of these top-of-the-line solutions include FOAMGLAS pipe covers and curved segments, polyiso, and engineered elbows. Our MIT removable insulation blanket fabrication, which is co-located with the Houston fab shop, manufactures removable covers that reduce your maintenance time and prevent having to remanufacture some parts.


Port Arthur, TX
The Port Arthur location offers an array of different metal products. We have components like bore pipe gores to cover insulation, Pittsburgh caps (flat caps with the beauty band attached), and cut and rolled aluminum jacketing (with/without safety edge).


Hammond, IN
In Hammond, our advanced CAD capabilities are expanding our product offerings. Here, you can trust us to deliver products ranging from heat exchangers and couplings to angle valves.
At each location, we rely on a combination of custom in-house materials and major brands, like Aspen Aerogels, DUNA-USA, Dyplast, Johns Manville and Owens Corning FOAMGLAS. Want to know how Distribution International can help you? Get in touch with an expert to learn more.


Richmond, VA
Our Richmond fab shop produces all of the types and shapes of traditional fabricated insulation materials our East Coast customers need. Additionally, they have a laminating line that produces a significant amount of laminated marine materials for the shipbuilding industry.


Why Distribution International?
You have your pick of insulation fabrication providers, so the one you choose has to stand out. Distribution International has been trusted for 60+ years as a leading distributor of insulation and related supplies for maintenance, repair, and operations (MRO).
Our scale and size allow us to reach customers everywhere, and we provide materials quickly from multiple locations. We can cut multiple parts per block of material, making us not only efficient but also cost-effective.


Trust Distribution International for Insulation Fabrication
You need a fabrication expert that can meet all your needs—big and small. Distribution International is your trusted source for custom fabrication solutions, with service to match. With 20 locations and best-in-class tools, we can solve any fabrication challenge. Get in touch with us to discuss your project, and streamline purchasing when you register for CustomerConnect.